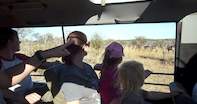 Kids can have fun in the bush! Let them disconnect from the world of the internet and re-engage with all things wild and create wonderful memories of their time in the bush.
Traditional safari wisdom is that kids and safari do not mix...
Many parents do not consider taking their children on a safari. This is probably due to the traditional wisdom dispensed and the prohibitive age restriction of 12 years that many game lodges place on their packages and activities. These restrictions are put in place for safety and to protect the other guests, many of who wish to escape children.Traditional safari wisdom espoused is that many of the lodges are un-fenced and wild animals can wander through - this makes it dangerous for young children. Game drives are usually done in open safari vehicles, which is dangerous as the high cries of small children sound like the cries of distressed prey to a predator. Game drives can be long and children can get bored. Taking into account all the above - children should not go on safari. Well we'd like you to reconsider!
However, Kids can go on safari!
Many families do take their children on safari, even from the age of three. The most important thing you can do is know your own family and plan for their needs. Travelling with children, especially in the bush is all about planning. The more you plan, the more successful your holiday will be.
Ask yourself these questions
Are your children well behaved? Will they listen to instructions regarding safety? Is malaria a major concern, or would you just give your children preventatives?Many parents avoid areas where malaria is present and opt for a destination which is malaria free. However, the Kruger National Park is a great destination for children. If you are worried about malaria, speak to your doctor about preventatives and consider going on safari in the winter months when the risk of malaria is lower.
Private lodges or self-catering accommodation offer the most flexibility
Another important consideration is your budget. There are luxury lodges that accept small children and offer many exciting activities, but they can be pricy. A better option would be to look at the lodges around the edge of Kruger National Park. There are many affordable accommodation options that accept children.
Self-drive holidays
Many lodges will insist that a family with small children have a private vehicle. This is often so that the children do not distract other guests. For this reason you might consider doing a self-drive holiday. Stay at one of the lodges just outside the Kruger National Park and head out on game drive jaunts into the Park. This means that the vehicle is closed and you can enjoy game viewing at your own pace, and if the children get cranky you can shorten the journey.
Quality family time
These lodges might not offer many distractions, but consider this to be quality family time. Spend time with the children, play games together. Take smaller children for walks around camp and help them to spot birds, chameleons or Rhino Beetles. When children have no other friends or distractions it's amazing how they can get along.
How about a fully guided personalised tour for your family?
Here at Siyabona Africa we offer tailor made family holidays. Speak to one of our experienced Destination Specialists about arranging a fully guided private tour in the Kruger National Park for your family. These take place in a convertible 4x4 vehicle and are led by enthusiastic guides who will ensure that the safari is fun for the whole family.