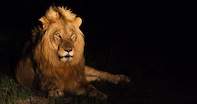 Guests staying at accommodations close to Kruger National Park, can still enjoy both day and night safaris in Kruger Park or bordering private reserves.
What to Expect
An exciting opportunity and absolute must for those with a spirit of adventure is a Kruger Park night game drive! Experience the sounds of the African bush with bright stars in the Kruger night sky above you and a great range of spectacular African wildlife around you. A lot of animals laze around during the day and start getting active after sunset.
Don't miss the chance to spot Lion and other nocturnal species hunting at night.
Pick Up and Schedule for Kruger Park Night Game Drives
Your ranger will collect you from your accommodation near Kruger National Park at 4:30pm. Night game-drives in Kruger Park normally start in the late afternoon, around 17:00, and end in the late evening, around 20:00. Please note that these times act as a guideline only.
The moment you enter the gate, your exciting game-viewing experience begins. Spot some more active Hippo and Rhino, running Zebra, Wildebeest and Giraffe or even a Lion on the hunt.
Vehicles
Enjoy the "real African feeling" during a night game-drive in Kruger Park. A powerful spotlight on your open safari vehicle ensures great views and lots of animal encounters in the dark African Bush.During a night game drive you will have the wonderful opportunity to watch an
amazing sunset over the Kruger Park
from a safe spot. After twilight sets in, you continue to look for African wildlife. Your ranger will share expert knowledge and information about each nocturnal species, their roaming areas and behavior. He can interpret the bush and the animal behavior like no one else.
What to Bring
Neutral colored clothing, long sleeved shirts
Sun block or sunscreen (as the afternoon is still intense)
Insect repellent
Special medication if needed
Jersey or light jacket and hat
Spirit of adventure
Camera, binoculars
Included
Transfer
Entrance fee
Mineral water
Not included
Food and Drinks
Conservation Fees
Please Note
This night safari in Kruger National Park only runs for groups of a minimum of 6 people sharing.