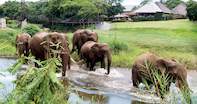 Country Estates Near Kruger Park offer comfortable accommodation on estates with sprawling grounds. Enjoy walking in nature and the tranquil surroundings before and after embarking on game drives in Kruger National Park.
These are the types of places where you can truly unwind and escape the stresses of daily life. Enjoy walks around the beautiful gardens of these retreats or get a pampering massage or just do nothing at all!
When you are ready to venture out and explore the surrounding areas - you will have exciting options like safaris in Kruger National Park or exploring the scenic Panorama Route and its attractions.