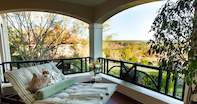 White River accommodation is a great option for an overnight stay if you're planning a safari excursion in Kruger National Park.
White River offers easy access to Kruger Park and a more tranquil setting than the bigger tourist towns nearby, all while being only 30 minutes from Kruger National Park's Numbi Gate entrance.
White River has a lot to offer tourists in addition to being close to Kruger, such as scenic drives, waterfalls, botanical gardens, and a bustling restaurant scene with local South African cuisine.
When you're not exploring Kruger Park by day on safari or relaxing at your White River accommodation by night, be sure to take advantage of all that White River has to offer during your stay.