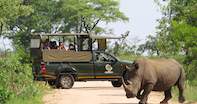 While staying in accommodation close to Kruger National Park you can book guided day and night game drives that venture into the park for brilliant wildlife viewing.
Expert professional rangers will use their knowledge to seek out the best game viewing in Kruger National Park. You may even be lucky enough to see many of the Big Five animals.
Choose from half-day or full-day guided game drives in Kruger National Park. Night game drives are a thrilling way to watch nocturnal wildlife as they go about their nightime adventures.