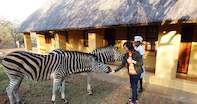 This collection of hotels, accommodation and lodges near Kruger Park gates are ideal if the Kruger National Park is fully booked or if you want the freedom of staying outside the Park but close enough to visit for day trips.
These lodges near Kruger Park gates provide unmatched access to the Kruger National Park, which is home to some of Africa's most spectacular wildlife. You can choose to self-drive in Kruger Park or book a guided game drive with a professional wildlife tracker.
There are numerous lodges near Kruger Park entrance gates, ranging from upscale lodges to cosy guest houses, so there is something for every kind of guest.
Our Kruger Park destination specialists are experts in finding the perfect accommodation near Kruger Park gates to meet your needs. Let us know what style, budget and gate near Kruger Park you would like to stay near and we will recommend the best lodges Near Kruger Park gates.