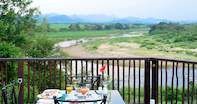 These closest hotels to Kruger Park Gates offer superb game viewing activities in Kruger National Park.
Wildlife may be seen frolicking in their natural habitat from your terrace or balcony, which is a treat for any nature enthusiast. These Kruger Park gate accommodations offer stunning views of Kruger National Park and are as close as you can get to the action.
When the park is fully booked during school holidays and the high season, these Kruger Park gate accommodations are under 1km from the entrance to Kruger National Park.
Enjoy some of the best wildlife viewing in South Africa by self-driving in the park or book a guided game drive with professional wildlife trackers to ensure you get the best chance of seeing the Big 5 and the animals on your must-see list!