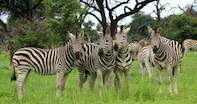 Marloth Park, a wildlife sanctuary in Mpumalanga, South Africa is on the boundary of the Kruger National Park. It is home to kudu, zebra, giraffe and other animals.
Marloth Park, which is close to Kruger National Park (separated by the Crocodile River), is an exciting destination that offers travellers an intimate encounter with the African bush. A variety of wild animals, including giraffes, zebras, impalas, and wildebeest, graze freely throughout Marloth Park since it serves as a wildlife conservancy.
There are guided bush walks and safaris, which allow visitors to observe incredible animals in their native habitat.
Kruger National Park is accessible from 2 entrance gates - Crocodile Bridge Gate is 14 km from Marloth Park, while Malelane Gate is 35 km away.
Any one of Marloth Park's many safari lodges offers a wonderful stay where visitors can drift off to sleep while listening to the sounds of nature outside their windows.
See Marloth Park accommodation near Kruger Park below.