From 14,000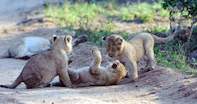 Are you craving a great Kruger family safari adventure with the freedom to travel at your own pace? This no-frills, value for money Kruger safari experience is exactly what you and your family needs. Expect a well-organised wildlife experience without sweating the small stuff.
What you can expect on this Kruger Family Safari
This great Kruger family safari adventure may only be five days long, but it promises plenty of special moments for families to bond. With everything well-planned out by our Kruger Safari Experts, there's no need for Moms and Dads to spend time fine-tuning the travel logistics. It's merely a case of hopping into the car and letting us take care of everything else.
The focus here is to have fun together while 'eye-spying' South Africa's favourites animals, from lions and leopards to ellies, giraffes and zebras. The viewing opportunities within the Kruger are guaranteed to keep families enthralled, especially the little ones who may have never been on a real Kruger family safari adventure before.
On this itinerary, families will have the opportunity to stay at two different family-friendly accommodations, which offers varied experiences. We've also added in both self-drive and guided game viewing experiences that are all kid-friendly, safe and well-organised by experienced guides.
Highlights
Head out on well-marked routes and maintained roads, ideal for self-driving
Experience well-organised family-friendly activities that can be changed at your request
Get a feel for both self-drive and guided game viewing experiences
Glide over one of the last remaining natural forested valleys along the Sabie River
Meet and exchange trunk greetings with an African elephant
Spot wildlife on guided 4x4 game drives in both the Kruger National Park and Mjejane Reserve
Day 1: Let the Family Safari Begin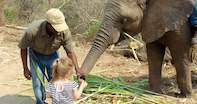 This self-drive Kruger family safari typically starts in Johannesburg or Nelspruit, depending on your family's travel preferences, and we'll also arrange your rental car at your request. Once you all get going, you and your family can look forward to your very first activity which involves spending an hour meeting South Africa's large and loveable elephants who reside at a renowned Hazyview elephant sanctuary.
This is followed up by settling into your accommodation at Hippo Hollow, located right on the banks of the Sabie River. After a busy day on the road, this evening, you can all look forward to tucking into a dinner fit for a (lion) king! The on-site restaurant serves everything needed to tame rumbling tummies, from like sizzling burgers, chunky chips and extra cheesy pizza.
Day 2: Something for Everyone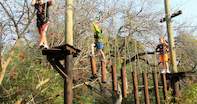 After a hearty breakfast at Hippo Hollow, it is time to get active with an aerial cable trail that cuts across the Sabie River valley. The course consists of eight ziplines and 10 platforms and each child under the age of 10 years old is accompanied by a qualified guide.
Once feet are firmly back on the ground, families can take the rest of the day off to do as they please, be it making a splash in the pool, or taking on a mini self-drive adventure along the Panorama Route. This area is jam-packed with local attractions, spectacular views and more than enough natural waterfalls. Head to God's Window (a viewing point) to admire the beauty of the Blyde River Canyon and make a pitstop in the town of Graskop to grab some 'pannekoek' rolled with brown sugar, syrup and lemon.
Day 3 - 4: Safari Time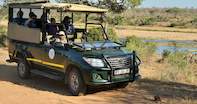 Over the next two nights, you and your family will be based at Mjejane River Lodge, located at Mjejane Game Reserve, a private concession incorporated into Kruger National Park. This greater Kruger Park lodge lies along the banks of the Crocodile River and offers comfortable, family-friendly greater Kruger safari accommodation.
From here, families will be treated to early morning and late afternoon game drives led by professional tracker-guides who will introduce your family to the magic of the South African wilderness. Keep your eyes peeled for an assortment of animals, including lions, hyenas, zebras, giraffes, and numerous species of local birds and antelope.
Spend your nights gathering together around the outdoor boma, swapping stories about your favourite animal sightings while tucking into dinners served under the stars.
Day 5: Goodbye to the Kruger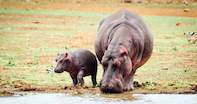 After breakfast and one last guided morning game drive, you and your family will need to start packing the bags and get to depart your family-friendly greater Kruger safari accommodation around lunchtime.
This is always the saddest part of an African safari, so if you would prefer to prolong the inevitable for just a little while longer, our African Safari Experts will be happy to extend your stay. Remember, the Kruger pairs really well with most destinations in South Africa, so you can even add in some sea and sand to your South Africa safari if you're craving some family time near a beach.
Included
2 nights' accommodation at Hippo Hollow Country Estate in Hazyview
2 nights' accommodation at Mjejane River Lodge, a private reserve incorporated into the Kruger National Park
Breakfast included from day 2 to day 5
Dinner included from day 1 to day 4
1-hour elephant interaction where you get to meet, feed and exchange trunk greets with an elephant
2.5-hour Aerial Cable Trail Adventure with 8 Ziplines and 10 platforms
Morning game drives in Kruger National Park on day 4 and 5
Afternoon game drives in Mjejane Reserve on day 3 and 4
Conservation and park fees while staying at Mjejane River Lodge
Not Included
Meals and activities not listed above
Optional car hire and all other extras to be settled direct