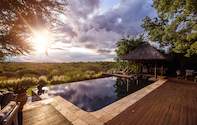 68 km from Orpen Gate - Khaya Ndlovu is a stone's throw away from Hoedspruit, the gateway to the wildlife haven of the Greater Kruger Park. This charming, colonial-style manor house is situated in the Khaya Ndlovu Game Reserve, surrounded by nature.
Why We Love it and You Will Too
Embark on open safari-vehicles with knowledgeable guides in the early mornings and late afternoon or venture out to the Kruger National Park on a full-day safari.
Discover wildlife species such as lions, cheetah, leopard, African wild dog, both black and white rhino as well as a host of general wildlife.
The chefs at Khaya Ndlovu can whip up all sorts in the kitchen and have prepared a brilliant choice of menu options using the freshest ingredients to satisfy both little guests and adults alike.
Book yourself in for a private treatment at the on-site Khaya Ndlovu spa. It's the best way to destress in between your Greater Kruger safari activities.
This Greater Kruger accommodation offers a variety of rooms to accommodate any safari travellers, from families to solos and of course, couples and honeymooners.
Explore the Blyde River Canyon, as well as Bourke's Luck Potholes, The Three Rondavels, God's Window and the Berlin Falls. While you're at it, schedule a visit to the Moholoholo Rehabilitation Centre and pay a visit to Jessica the hippo.
Your Greater Kruger Safari Experience
In the region of the Greater Kruger, is where you will find Khaya Ndlovu Safari Manor. It is situated close to Hoedspruit, a charming, authentic South African town, well-known and loved by all those who have become frequent travellers to and from the Kruger National Park.
This classic Greater Kruger accommodation overlooks the majestic Blyde River Canyon in the distance. You can also see the Drakensberg Mountains rising on the horizon if you sit out on the open dining terrace. When you're not relaxing and soaking up the views from the bar or pool area, embark on game drives into the Kruger National Park. With a bit of luck, you are likely to spot lion, buffalo, and even leopard and endangered wild dogs - to name just a few.
Remember, at this accommodation near Hoedspruit; it's you who sets the pace. In between safari activities, take some time to yourself with a pampering spa treatment (a must for couples!).
The suites at Khaya Ndlovu are considered colonial-style, carefully constructed from authentic hardwood. Inside, expect vintage wooden furniture, Persian rugs and chic African accents. Some suites are perfect for honeymooners who are looking for the ultimate in comfort and privacy.
Families are also more than welcome here, and there are several activities on offer for the little guests. Chefs at Khaya Ndlovu are pros at whipping up meals to tame those rumbling tummies.