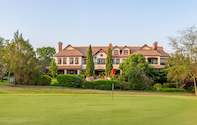 35 km from Numbi Gate - Oliver's in White River, Mpumalanga, South Africa is a charming golf and spa hotel near Kruger Park with European charm, located 40 minutes from Kruger National Park.
Why We Love it and You Will Too
Superb continental and Mediterranean cuisine and fine wines
Wellness Spa massages, face and body treatments
Golf at White River Golf Course and Leopard Creek Country Club
25 minutes drive (35km) from Kruger National Park
Enjoy excellent service at this owner-managed lodge in White River
Your Oliver's Lodge Experience
Oliver's Lodge, Restaurant and Spa is located on the White River Country Estate overlooking the White River Golf Course which is an 18-hole championship course. While this is heaven for golf lovers, those who prefer more relaxing pursuits can spend time lounging by the pool or indulging in spa treatments at the Wellness and Beauty Centre at Oliver's.
An added benefit of staying at Oliver's Lodge is that it offers its guests access to the prestigious Leopard Creek Country Club Championship Golf Course. There's a round of championship golf waiting for you!
Invite your taste buds to Oliver's Restaurant and sample the superb continental and Mediterranean dishes from the a-la-carte menu. Delicious meals are paired with the finest South African wine from the wine cellar, which also offers a private dining experience featuring Fondue Chinoise and Swiss Raclette.