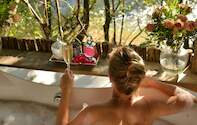 10km from Phabeni Gate of Kruger National Park - Summerfields offers the perfect escape from the daily grind to a place of beauty, tranquility and complete hedonism.
Why We Love it and You Will Too
Summerfields is the ideal place to relax your weary body and refresh your mind
Accommodation is in luxury tented suites or the stunning Forest Room and Jackalberry Suite
Situated conveniently just 10 km from Kruger Park Phabeni Entrance Gate
The Summerfields Spa has a steam room, jacuzzi and Vichy shower and a hydro walk along the river
Summerfields River Cafe has a unique greenhouse design and serves fresh produce from the organic garden
Your Summerfields Rose Retreat & Spa Experience
Re-ignite your senses, refresh your mind and uplift your soul in the most enchanting setting imaginable. Summerfields is a breathtaking retreat and Hazyviewa accommodation, gently nestled in a secluded valley near Hazyview in Mpumalanga, South Africa.
What better way to escape from the stresses of modern living than to be surrounded by gifts of Mother Nature, from lush trees and shrubs, to the fragrant roses that Summerfields is renowned for?
This Hazyview accommodation is ideally located just 10 kilometres (6.2 miles) from the world-renowned Kruger National Park, and comprises of a luxurious lodge, an indulgent spa and a welcoming restaurant, all set on Summerfields beautiful rose farm.
The owners of Summerfields Estate had a vision - to create an environment where active farming and warm hospitality can co-exist in a wonderfully unique way. Based on this vision, a greenhouse was established, and offered a place to cultivate long stem export quality, hybrid tea roses.
The different rose varieties are cultivated with careful precision and the utmost dedication to perfection. These impressive flowers are not only sold on the farm, but also at the Summerfields outlets in White River and Johannesburg.