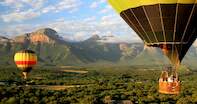 Experience the magic of lighter-than-air flight over the Lowveld game areas adjoining the Kruger National Park. Our pilots and guides will ensure a safe, enjoyable and informative adventure that will be one of the highlights of your visit to Big Game Country...
Location
Located near Hoedspruit, and we offer hot air balloon safari flights over Kapama Game Reserve and other lodges and game reserves that have suitable terrain within the Greater Kruger Park area.
What to expect
You meet up before sunrise and coffee is served while you watch your eight-storey high hot air balloon being inflated and prepared for flight. After a safety briefing you should be airborne in time to witness the sunrise. Then a change in altitude to search for a favourable wind that will allow you to drift gently over the landscape on your hot air balloon safari.
Sooner or later you have to come down again from your ballooning experience. After about an hour's hot air balloon safari flight, the pilot will select a suitable landing site where the retrieve crew should be in attendance.
Passengers don't have to be physically fit, but landings can sometimes be bumpy, so if anyone's pregnancy is approaching term, it would be best to book their flight at a later date.
To enter the basket, passengers have to be able climb over the 1.2m high rim of the basket. Be prepared to stand on your hot air balloon safari for at least an hour. Youngsters are welcome but should be at least 1.2m (4 foot ) tall, so they can see over the rim of the basket.
Sparkling wine and fruit juice is served after the hot air balloon safari, depending on weather conditions. If in the vicinity of Otters Den, passengers are invited to a breakfast on the deck overlooking the Blyde River.
Bookings
A minimum of two passengers and
a maximum of 12 per hot air balloon safari
. If you are alone, enquire anyway: There might be a hot air balloon safari, If weather conditions don't allow a flight on the day of your booking, you are entitled to a full refund, or you can choose to carry your ticket over to another day of ballooning.
What to wear and bring along
Though winter dawns can be nippy, once you're up in the basket, it will be surprisingly warm. That's because there's no apparent wind and because there's a
180 000 cubic foot sac of warm air
over our heads. Warm clothes will be useful during pre-flight. Small cameras in protective pouches can be brought along on the hot air balloon safari (in the event of a bumpy landing we don't want loose equipment flying around.
Staff and equipment
Your ballooning pilot is, of course, fully qualified and is also an
expert in environmental interpretation
. We fly a Cameron 180 that carries 8 passengers and the pilot and a Head 120 that carries 4 passengers and the pilot. Hence, any group size from 2 to 12 can be accommodated on a ballooning safari.
Where to Stay
Stay nearby at Khaya Ndlovu Safari Manor in Rietspruit Big Game Reserve just outside of Hoedspruit