Elephant Interaction Greater Kruger Park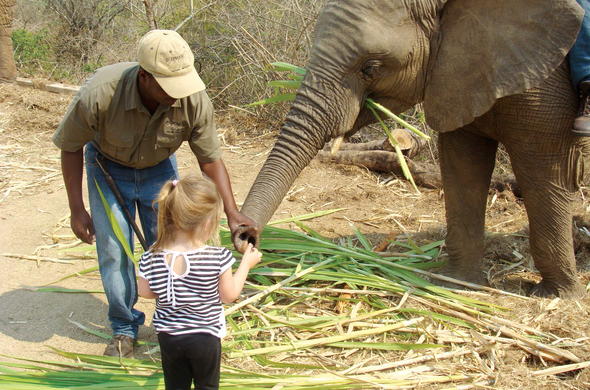 Fall in love with the gentle giants of Africa during an unforgettable elephant encounter at an elephant sanctuary on the banks of the Sabie River near Kruger Park.
Feel the thrill as you interact with one of nature's most majestic creatures and witness the intelligent and compassionate nature of the African Elephant. These mighty creatures are rescued African Elephants who now call this sanctuary their home. A rewards based programme is used to train elephant and to win their trust. The elephants are stimulated daily and they enjoy regular exercises to further help build their trust.
Each elephant has their own personality, character and temperament and you can experience their authenticity by interacting with them. Young and old can embark on this magical journey and learn all about these intellectual creatures on this adventure that is both fun and educational. Awaken your senses as you touch, feel and smell the rescued elephants of Kruger during one of the many elephant experiences.
Trunk-in-hand Program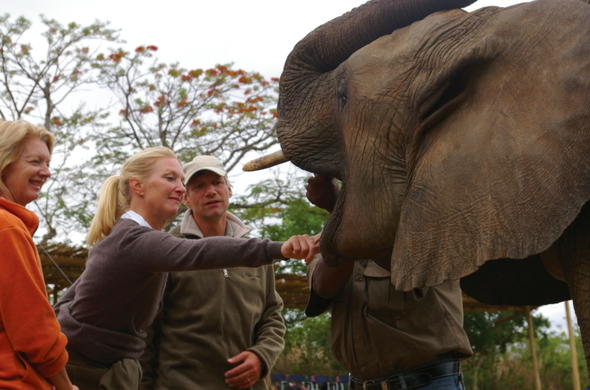 Stroll through the incredible bush while walking hand-in-hand with the elephants. Allow an experienced elephant guide to introduce you to the elephants and learn all about their unique personalities and traits. Choose to wake up early and be the first to experience this adventure for the day as the first Trunk-in-hand program starts at 08h00.
Elephant Brush Down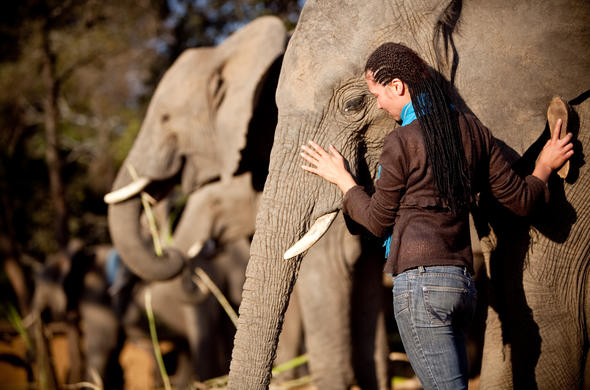 Wake up early to lend a helping hand to groom the elephants during this unique experience. The programme starts at 07:30 and is followed by a trunk-in-hand walking experience as the elephants graze the bush for breakfast. This elephant brush down experience near Kruger Park finishes with a hot beverage and a fresh muffin on the deck overlooking the Sabie Valley.
Sundowner Elephant Experience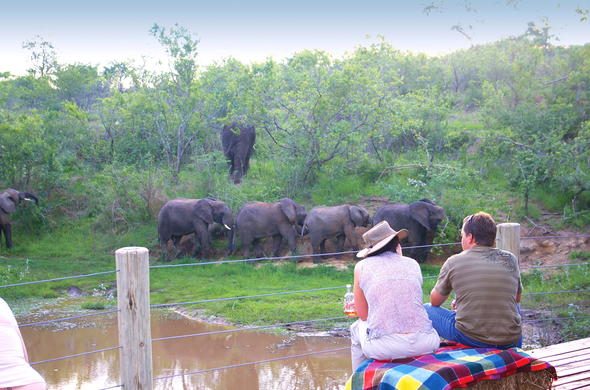 Walk into the sunset, elephant in hand, and feel the rough skin of these gentle giants as you approach the stables to tuck them in and call it a day. Weather permitted, you can witness the elephant swimming on a hot day. Relax with sundowners and canapés after blissful elephant interaction.
Day with an Elephant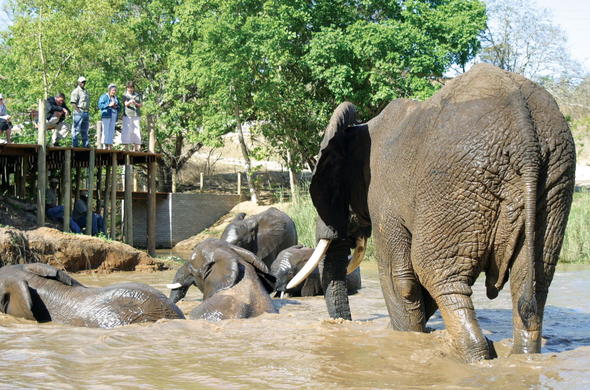 Allow your dream as an elephant caretaker to become a reality and learn all about what it means to care for these creatures on a Full-Day in the Life of An African Elephant. Wake up early for the programme which starts at 07h30 to walk in the footsteps of these magnificent creatures. The programme focuses on the care, management, behaviour and husbandry of the rescued elephants. A sundowner drink whilst watching an African sunset at the stables as the elephant settle for the night completes your memorable day.
Children and the gentle Ellies
Children of all ages are welcome and they can feed, greet and walk hand-in-trunk with the elephants. The gentle giants are used to children and often feel a kinship with the little ones.