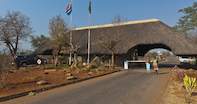 Looking for Malelane accommodation near Kruger National Park? The Malelane Gate entrance to Kruger Park is only a few minutes away from this little town which provides cosy accommodation options to suit your needs.
Some Malelane accommodation is so close to Kruger Park that they have views of the park's majestic wildlife, including elephants, lions, zebras and giraffes.
There is ample time for outdoor activities like hikes and game drives. After a tiring day in the bush, you may indulge in some delectable regional cuisine or laze by the pool in the warm African sun.
Malelane will undoubtedly give you a memorable Kruger wildlife safari experience that you won't soon forget.
See Malelane accommodation near Kruger Park.