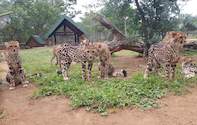 While on an African safari holiday in South Africa you can get up close to the greatest sprinter in the world, a Cheetah while visiting the Hoedspruit Endangered Species Centre which rehabilitates African wildlife including orphaned baby Rhino.
Have you ever heard a Cheetah purr? No, well it sounds a bit like someone started up a lawn mower! Delight in a memorable encounter with these spotted cats while on a visit to the Hoedspruit Endangered Species Centre. Take great photographs and learn about these vulnerable creatures. The centre is a haven for rare and endangered species which cannot return to the wild.
Spotted on a Tour
Hoedspruit Endangered Species Centre offers interactive tours of all the animals at the centre. The tours depart at 09:00 and 11:00. If you have not managed to see all the species in the wild, then this is your chance to do so. The tour begins with a presentation about the centre and the conservation work they do. Afterwards, you will set out in a safari vehicle to visit the various enclosures.
You will be driven between the enclosures which house the animals. The main focus of the centre is on the Cheetahs, some of which have been bred in captivity and are used in a breeding program, so that their offspring can be re-released into the wild. The tour offers a great chance to get close up pictures of Cheetah.On the tour you will also get to see endangered Wild Dogs, African Wild Cats, Caracal and threatened species of birds such as Ground Hornbills, many of which are very difficult to spot in the wild. The tour is led by an enthusiastic guide who will tell you about the habits of the animals encountered. Money earned from the tours is put back into conservation and protection efforts.
Visit the Vulture Restaurant
Another seasonal highlight at the Hoedspruit Endangered Species Centre is the Vulture Restaurant. This is a wonderful experience for birding enthusiasts - the centre puts out carcass remains - after the predators have had their fill - so that scavenging vultures can also get an easy meal. Many scavengers and raptors are attracted and it is a great opportunity to see Lappet-faced Vultures, Marabous Storks and Bateleur Eagles.
The Hoedspruit Endangered Species Centre is a wonderful addition to any itinerary and by the end; you will have your own stories to tell about your encounters with a Cheetah and have an appreciation for the conservation of African wildlife.