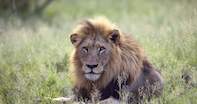 On Safari in South Africa - Carrie Hampton is a safari specialist and in this article she explores a few options in some private game reserves near Kruger National Park.
Going on safari in South Africa is
a holiday of a lifetime
, because no wildlife film can ever recreate the true-life experience. Just think, tomorrow you could be in the African bush sitting as close to a panting lion as you now sit to your television or computer screen.You could be within charging distance of a white rhino and purring distance of probably the most beautiful animal you have ever seen - the sleek and slinky spotted leopard.
Safari doesn't have to Break the Bank
Safari does not have to be that expensive, especially with a strong Pound and Dollar against the African currencies. Don't let the bad press about South Africa convince you not to go.Allow me to report the good news, which is that South Africa offers some of the
closest game viewing in Africa
, along with a choice of the most superior accommodation, excellent service and good value for money. With a fully pre-planned holiday or a go-as-you-please itinerary, you are highly unlikely to encounter anything to mar your trip.The only problem you might have, is which of the
many private game reserves
to choose. The lodges mentioned in this article are all close to Kruger National. There are so many excellent venues, that personal recommendation and budget constraints are the best way to decide.One reserve that I recommend to family and friends is Tshukudu Game Lodge. It is family owned and run and you are received like a long lost friend. Visitors tend to come time and again because of this
homely welcoming atmosphere
. Another reason is to see the orphan animals wandering around the homestead.
Orphan Lion Cub
Eliza the lion cub, rescued from certain death by a new dominant male on the prowl, was a cute fluffy six month old when I first saw her, and is now two. She
still keeps her claws retracted
when playing with the staff, but it won't be long before she is banished from the early morning game walk for being too boisterous.Two ex-orphan Kruger elephants, Tambo and Becky, also come on
the dawn game walk
and silently creep up behind you before heavy breathing down your neck. This mischievous pair appear from the bush on command and are growing in naughtiness, as I found out when I was suddenly frisked by a firm trunk.Back at the lodge, Cutlet the warthog, snuffled around my legs and smeared me with engine oil that he had wallowed in. This
lodge is for true animal lovers
who like to touch as well as look.Tshukudu is one of the few lodges often visited by South Africans as well as foreigners. Not only is it affordable, but it is unpretentious and suitable for families with children (preferably over 10 yrs old). Accommodation is in cute little cottages looking out onto the African bush.The food is home cooked with plenty of it, and supper is traditionally served in an open-air reed-enclosed boma around a roaring fire. Like most private reserves there is no fence around the lodge and roaming wild lions regularly pad through the compound during the night.Their roar will interrupt even the most heavy sleeper. This terrifying sound may be a mile away but the low resonance will seem to be coming from right outside your door. Of course it could be just that, so a midnight stroll should be avoided.
Luxury Tented Camp
Another altogether different lodge is M'Bali in the Timbavati Reserve. This is a luxury tented camp, which means your walls are made of canvas but the interior is still like a hotel bedroom. Each abode is perched on a wooden platform on the hillside with your own private elevated veranda and wonderful views over the dam.Make sure you zip up your door before
going off on a game drive
, as naughty Vervet monkeys adore rummaging through your suitcase and sprawling your underwear all over the surrounding bush! Excellent meals are served under an open sided thatched lodge which has a long wooden bar and a scattering of easy chairs. While elephants drink in the river below, you can wallow in cleaner water in the small pool - a lifesaver in the summer heat.
Arguably the best game lodge in South Africa is Singita in the Sabi Sand Reserve. It has two separate lodges 'Boulders and Ebony' both of which are truly 5 star. The semi-open large central thatched lounge area tempts you with a warming fire on cool winter evenings and you can slump into sumptuous sofas of African fabrics. Each suite situated on a hillside with the African plains before you, has its own sitting room and sundeck with the addition of a private plunge pool.
The stunning feature about 'Boulders' is its glass fronted bedrooms, where you don't even have to leave your four poster bed to watch the game wander by in the distance. The food is exquisite and during your stay you are allocated a game ranger who rarely leaves your side and even dines with you. A typical day in the bush at all lodges goes something like this; pre-dawn awakening and quick cup of coffee before heading off on a game drive (or walk), to catch the animals still up and about before the sun gets too hot.
Between your return from morning game drive and your departure for an afternoon game drive you will be fed copious quantities of delicious food and drink and should just about have time for a siesta. During the evening game watching excursion, you are likely to stop by a scenic waterhole for sundowner drinks, such as G&T with ice and lemon accompanied by some nibbles. All very civilised. You return in time for a dinner of fine food and wines to discuss your day's sightings of lion, leopard, elephant, giraffe.......