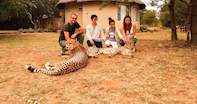 Tshukudu Game Lodge is a family run game reserve near Kruger, that people return to time and again. They are always sure of a homely welcome and some orphan animals to pet. Walk with elephants and cuddle lions cubs at Tshukudu Game Lodge.
Which of the
many private game reserves to visit
in the Kruger area is always a difficult choice, but during recent floods, one stood head and shoulders above the water.Tshukudu Game Lodge near Hoedspruit, has no river running through it and no major dams so it survived the floods and welcomed stranded guests from surrounding lodges. Ala and Lolly Sussens receive you into their family
like a long lost friend
. Orphan animals are treated likewise and there are always a few young animals who demand a cuddle or nibble your toes under the dining table.Eliza the lion cub, whom I last saw as a cute fluffy 6 month old, is now almost 2, but still keeps her claws in when playing with the staff. It won't be long now before she is banned from the
early morning game walk
- ever since she fancied baby zebra for breakfast.The two ex-orphan Kruger elephants, Tambo and Becky, also
come on the game walk
and silently creep up behind you before heavy breathing down your neck. This mischievous pair appears from the bush on command and are growing in naughtiness, as I found out when I was suddenly frisked by a firm trunk. Back at the lodge, Cutlet the warthog snuffled around my legs and
covered me in the engine oil
he had just found and wallowed in.Tshukudu is one
lodge much visited by South Africans
. Not only because it is affordable, but also because it has the feeling of home. The staff never leave, it is only the orphan animals that change, but you can still see the babies you cuddled last time now making their way in the wild.Like most private reserves there is no fence around the lodge and
visiting lions are a regular occurrence
during the night. Their roars are often heard at very close proximity and can turn your sweet dream into a sudden nightmare. Don't worry you are not allowed to wander back to your room alone, but once there it is wise not to take an evening stroll. Save your
close encounters of the animal kind
for the morning as a night-time excursion could seriously damage your health.